Message from the Chairman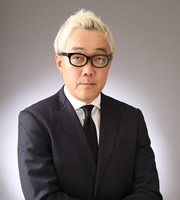 The Association of All Japan TV Program Production Companies (ATP) is a creator organization of more than 120 member companies with a combined total of 10,000 employees. As a federation of independent video content production companies, we aim through our activities to contribute to the development of broadcasting culture and the enrichment of people's cultural lives.
Our major activities include the ATP Awards. A glittering annual ceremony recognizes outstanding television programs, as chosen by the actual creators, with the chief objective of raising the profile and position of content creators in the industry. Our media committee holds regular seminars at which invited instructors provide member companies with the timely advice they need on legal measures and new business. The ATP TV CREATORS FES attracts young people aiming for a career in the industry, and provides a setting for member companies to communicate the enjoyment and satisfaction of working to produce video content, and to communicate the appeal of content production companies to the next generation.
In recent years, content production companies in Japan have fallen behind global industry leaders. One reason is the domestic conditions in Japan, where production companies do not enjoy the strong position they have in other countries, and where there are few opportunities for expansion overseas. The industry faces copyright problems, the incomplete regulation of legal frameworks on the production and trade of broadcast content, and the weakness of systems to support greater expansion and sales of content overseas. ATP is determined to resolve these challenges, and continues to engage in ongoing discussions with broadcasting companies and relevant government ministries and agencies. We are also working to find a route to overseas expansion for Japanese production companies through our management of Tokyo Docs, which provides a base for international collaboration on documentaries, and by participating in the Asia Drama Conference, an international conference for creators of drama programs.
ATP marks its fortieth anniversary in 2022. The environment in which creative companies operate has undergone huge changes since the 1980s, as the result of technical innovation and the digital revolution. ATP too must adapt to the times. New challenges that must be addressed include developing new markets, implementing the digital transformation, nurturing new creative talent, and strengthening our international competitiveness. We will continue to do our utmost to support the autonomy of content creating companies and to ensure that Japan's video content can stand proud alongside the industry's global leaders.
June 2022
Yoichi Fukuura
Chairman
The Association of All Japan TV Program Production Companies