Top Message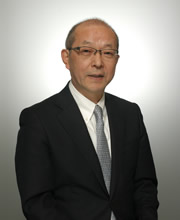 Supporting Independent Production
With ATP's 2016 activity lineup again including the ATP Award TV Grand Prix, Tokyo Docs, the Asian TV Drama Conference, and the TV Program Production Company Joint Career Fair, we bring a producer's perspective to our ongoing efforts in partnership with fellow producers in Japan and beyond to create the best environment for the production of quality television programming.
This year we reach the 32nd round of the ATP Awards, for which we have prepared two special highlights. First, we will extend the Outstanding Newcomer Award category. Along with the fifth round of Young Filmmaker Project, this is intended to give young producers at production companies more space to play, opening the way for the creation of outstanding content. Second, we have set up a new Non-Broadcasting Content category. With a succession of video distribution services emerging since just last year, the film media environment is in the midst of a dramatic upheaval. Where we production companies have traditionally focused on making television programs, the establishment of this new ATP Award category is intended to signal our readiness to engage proactively in areas outside broadcasting in response to these new trends.
Our international efforts too are picking up pace. This year will mark the sixth Tokyo Docs forum, and in addition to the usual Tokyo Docs Academy programs, ATP will also hold a Master Class to build the world-class planning and development capacities needed to position the forum as a hub for international co-production of the world's documentaries.
At the 11th Asian TV Drama Conference in 2016, Asian producers and scriptwriters will get together to share the fruits of their efforts to address the issues currently facing TV drama production in their respective countries.
ATP will also bolster its business development efforts, including setting up ATP booths and distributing member companies' catalogues at TIFFCOM and other events targeting the international content market.
Our human resource development efforts will be focused on holding information sessions and setting up member company booths at the TV Program Production Company Joint Career Fair in 2017 and 2018, aiming to become the best place for aspiring students who wish to become content creators to explore their career options.
Another ATP field of endeavor will be to train business producers in new media, which we will approach by holding regular seminars on specialist areas for member companies, and by building up knowhow and providing the latest information as a guide for new media participation.
We will work to position the ATP Kansai Center as the face of Kansai's film media industry through programs such as the 2017 Kansai ATP Awards and the 2017 TV Program Production Company Joint Career Fair.
2016 will also be the year that ATP as an alliance of independent production companies issues a declaration about production and related rights.
This will mark the beginning of our campaign to raise awareness of broadcast program production rights and responsibilities among the relevant ministries and agencies, broadcasters, and the mass media, calling for program sales to be conducted in line with the Copyright Act and the Ministry of Internal Affairs and Communications' guidelines.
We see this campaign very much as contributing to the development of a rich broadcasting culture, and we look forward to making a powerful appeal spearheaded by the ATP PR Promotion Council, the driving force behind our organizational strategy.
ATP will continue to advance under the banner of "supporting independent production".
April 1, 2016
Hitoshi Kurauchi
Board Chairman
Association of All Japan TV Program Production Companies (ATP)