Message from the Chairman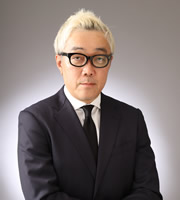 The Association of All Japan TV Program Production Companies (ATP) is a creator organization of 120 member companies with a combined total of 10,000 employees. As a federation of independent video content production companies, we aim through our activities to contribute to the development of broadcasting culture and the enrichment of the cultural life of the people.
The proliferation of similar programs and coexistence without competition will lead to the decline of broadcasting culture. What should be done to further strengthen television? One solution is for production companies to become stronger. With the nature of copyrights becoming an issue with broadcasting companies, ATP intends to strongly promote fair production transactions, protect the rights of producers, and provide support so it can remain a strong creator organization of production companies that do not fear challenges.
Media other than television has emerged in recent years, and an age of multiuse content has arrived. This is a huge opportunity for production companies. The young filmmaker project that ATP holds each year provides financial and other support and the opportunity to release movies in theaters and to recover production costs. The media committee, which also serves as a study group for member companies, actively deals not only with copyright issues but also with distribution and other new business information. We are also exploring paths for production companies to advance overseas through Tokyo Docs, a forum for promoting international coproduction of documentaries, and through participation in the Asian TV Drama Conference, a gathering of the region's drama producers.
If capable talent is to gather at production companies, it will be important to communicate to young people the satisfaction and enjoyment of video production. The ATP TV Creators Fes and internship programs represent efforts to secure and foster capable talent who can become future video producers. More than 150 new employees of member companies participated in a joint new employee training seminar. We support the first steps of creators. The ATP Award is presented at a grand award ceremony held each year since 1986 to recognize the production staff of outstanding content for the year.
Under the slogan, "Production companies will become independent," ATP is moving forward.
July 2018
Yoichi Fukuura
Chairman
The Association of All Japan TV Program Production Companies